1) Surname: Freelar
1.1 ) Forename: Stan
1.2 ) Gender: Male
1.3 ) Age: 23
1.4 ) Phone Number: 4578
1.5) Date and City of Birth: 02/01/1991 London
1.6) Education record: Cambridge university
1.7) Are you currently in employment?: No
1.7.1 ) If yes, what is your current occupation?:
1.8 ) Gender (OOC): male
1.9 ) In-game level (OOC): 5
1.10) Age (OOC): 16
1.11 ) Timezone + Country (OOC): 0+ GTM London
1.12 ) Past Character Names + Levels [ALL past characters including name changes] (OOC): none
1.13 ) Screenshot of your stats (OOC):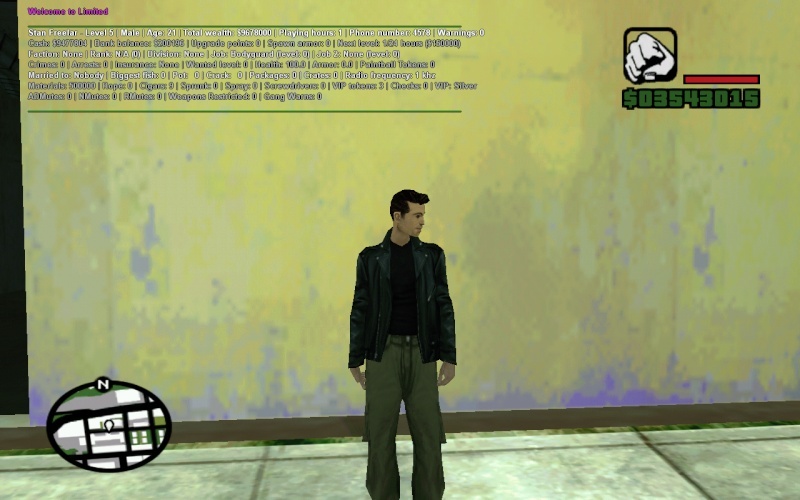 1.14 ) Have you passed Level 2 with any character on this server? (OOC): Yes
1.15) How long have you been a player of our server? (OOC): 1 hours
___________________________________________________________________________
Preliminary Background Check
2) Have you ever been convicted for a serious crime?: No
2.1) Have you ever served time in prison?: No
2.2) Do you hold a full Los Santos Driving License?: Yes
2.3 ) Has your driving license ever been suspended?: No
2.4) Can you communicate effectively (Verbally & writing) in the English language? (OOC): Yes
___________________________________________________________________________
Curriculum Vitae
3 )
3.1 ) Why do you wish to be enlisted as a Police Officer? (IC): My dream as a kid was to become an officer like my father but he got involved in a gunfight which lead to his death. He was a high respected cheif back in the day but now i want to replace him in our family. I want to be like my Father!
3.2 ) Tell us about yourself and why you want to be a Police Officer (OOC): I was a Private first in the army and fought in Afghanistan. However after my family decided they can't loose another family member they decided i shuld go to the police. I have been trained with a gun and have been tought dicipline so i can listen and learn easily!
3.3 ) Do you posses any Law Enforcement knowledge? (OOC): Yes
3.3.1 ) If yes, explain fully (OOC): Many other servers, i was cheifs, army commanders and officers.
3.4 ) Do you know your way around Los Santos well? (OOC): yes but if the server has renamed places ill need to know about it.
Applicants Statement
I certify that the answers contained within this application for employment are true and complete to the best of my knowledge. By signing below I hereby authorize investigation of all statements contained within this application for employment as may be necessary in arriving at an employment decision. I hereby understand and acknowledge that, unless otherwise defined by applicable law, any employment relationship with this organization is of an "at will" nature, which means that the Employee may resign at any time and the Employer may discharge Employee from the recruitment process at any time with or without cause. It is further understood that this "at will" employment relationship may not be changed by any written document or by conduct unless such change is specifically acknowledged in writing by an authorized executive of this organization. In the event of employment, I understand that any false or misleading information given in my application or interview(s) may result in denial and bar from re-application. I understand, also, that I am required to abide by all rules and regulations of the employer.
Signed: Stan Freelar